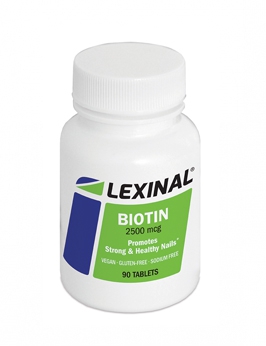 Lexinal® - PRODUCT NO LONGER AVAILABLE
A unique dietary supplement designed to promote strong and healthy nails1
Lexinal® (Biotin 2500mcg) is a unique dietary supplement designed to promote strong and healthy nails.  Lexinal is a water-soluble B vitamin that has been specially formulated for patients, as it is gluten and sodium free, kosher and vegan.  Each bottle of Lexinal contains 90 tablets.
LEXINAL® IMPORTANT SAFETY INFORMATION
If you are pregnant, lactating or on prescribed medication, consult your health care professional before using this product. Discontinue use and consult your doctor if any adverse reactions occur.
This statement has not been evaluated by the Food and Drug Administration. This product is not intended to diagnose, treat, cure or prevent any disease.
Available for purchase in the U.S. only.
Free shipping.